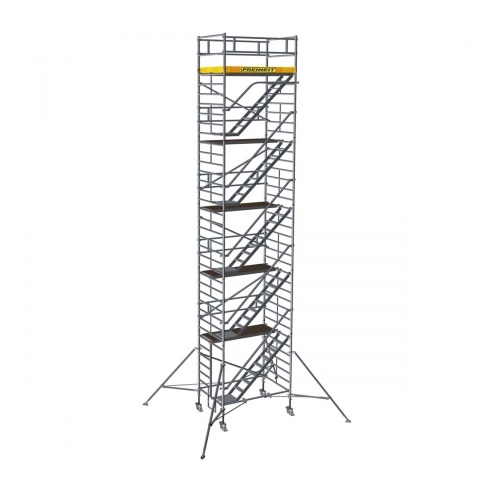 Mobile Scaffold Tower with Stabilizers rental services in Delhi
Devsons steel is a company that believes in quality, hence we present to you the stairway mobile scaffold tower. Made with premium materials, these mobile scaffold towers with stairways are safe, comfortable and make frequent climbing and descent with bulky and heavy loads easy and efficient.
Scaffolding tower with stairway is available in various sizes, increasing the already high demand for it on construction sites. While purchasing and renting a product from DST, you can rest assured that we never compromise with safety and quality. Our products are checked on every necessary parameter adhering to industry standards and quality norms.
MOBILE SCAFFOLD TOWER WITH STABILIZERS
Advantages Scaffolding Tower in Construction-
Construction processes have enhanced its operations to make it safer and efficient. And so does the equipment used for it. Mobile scaffolding frames are the best option for ladder works, it provides more safety and a more practical approach to working at heights.
1.) Safety-
Scaffold towers are safer with a wide surface area to work on, supported on four legs with excellent stability. Safety is the top priority for us when we provide scaffolding towers, you can carry out your work with the assurance that the product you are using is top-tier and made especially for your comfort and safety.
2.) The platform-
Platforms available on frame towers allow you to move around freely and have the required tools and materials beside you. The platforms built in our scaffolding towers with stabilizers are provided with a capability to withstand both persons and materials required.
3.) Easy to work on-
Scaffold towers make a long and tricky job of reaching heights and do necessary work with much more feasibility and ease. You can put these towers in the best spots to reach the desired area without any hassle or fear of accidents or damage to you or your or your property.
4.) Easy to move and assemble-
Our scaffold towers are equipped with wheels to allow the user to shift it from one location to another quite easily, and in a simple way. Moreover, our frame towers are easy to assemble and dismantle. It can be assembled by one person without requiring any specialist training. Our scaffolding towers include a comprehensive set of instructions for assembling, dismantling, and storage. Which makes the process easy, less time-consuming, and effective.
Why choose DST's Aluminium Scaffold Towers in India?
We provide scaffolding towers with rustproof stabilisers, easy to maintain and less labour-oriented. Over the past 48 years, Devsons Steels aims to provide the safest solution to every construction requirement and has a long list of satisfied clients, who have benefited from the Scaffold system.
We provide aluminium frame towers with stabilizers that are rustproof, easy to maintain, and less labour-oriented. Our aim is to provide the safest solution to every construction requirement.
Our products are developed by using high aluminum adhering to required international compliance parameters.
Features of Aluminium Scaffold Tower with Stabilizers -
This safe and comfortable mobile frame tower is designed keeping in mind the standard shape and size parameters.
Tested load-bearing capacity- 200 kg/m2, depending on platform length from 270 kg to maximum 810 kg.
Scaffolding width- 0.75 m, length- 1.00 m, 2.05 m, 3.00 m.
Working heights can be extended from 4.50 to max of 13.45m with the standard part.
Comfortable entry into the scaffolding from outside through the wide entry frame stairways with 100 mm deep, non-slip tread surface and entry platform.
The max platform heights are limited to 8m outdoors and 12 m in fully exposed spaces.
Fully welded joints with super stability, cannot be twisted or broken, high load-bearing capacity, no sharp edges.
Extra stable guard rails provided greater safety and stability.
Weather and water-resistant products.
Chassis beams- for reaching greater heights, additional triangular stabilizers are provided to give optimal stability.
Application of mobile scaffolding towers with stabilizers-
These scaffolding towers are best fitted to provide stable and efficient reach to high construction areas.
It could be used for the installation of equipment or fitting at heights. This will provide easy access and a comfortable and safe platform to work on.
Scaffolding towers are majorly used at dry construction sites to avoid any accident or damage.
If you have maintenance, repairs, and inspection work for ceiling, or high walls, etc. Scaffolding towers are the best option to go for.
If the work at hand is on height and is going to take quite some time to complete, go for frame towers. They are best for work of long durations on walls or buildings.
Scaffolding towers are used for the construction of new buildings, bridges, renovation purposes, painting works, maintenance works, and ground events.
Our scaffolding towers are regularly maintained and serviced all across India. Designed with care and experienced with care and experience, our products are the most trusted scaffolding materials. The building props that DST supplies are manufactured from high-quality materials and according to international standards and parameters.
We provide both rental and purchase options for our products. Devson's steels is the leading supplier of scaffolding materials and shuttering on a rental basis. We have provided heavy-duty construction products for various private companies, contractors, and government departments for more than 50 years. Our experience is what sets us apart from our competition along with the quality of product we deliver.
Get in touch with us.
Specification