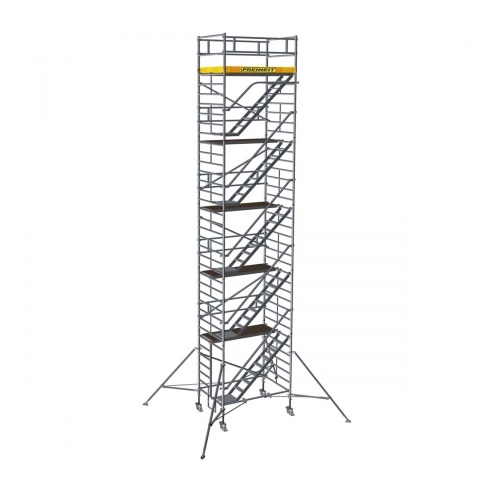 Mobile Scaffolding Tower Stairway Rental Services in Delhi
Devsons steel is a company that believes in quality, hence we present to you the stairway mobile scaffold tower. Made with premium materials, these mobile scaffold towers with stairways are safe, comfortable and make frequent climbing and descent with bulky and heavy loads easy and efficient.
Scaffolding tower with stairway is available in various sizes, increasing the already high demand for it on construction sites. While purchasing and renting a product from DST, you can rest assured that we never compromise with safety and quality. Our products are checked on every necessary parameter adhering to industry standards and quality norms.
MOBILE SCAFFOLD TOWER WITH STAIRWAY
Advantages of Mobile scaffolding tower with stairway-
Our widely demanded mobile scaffolding towers are highly reliable and efficient. Modernization of the construction process has made traditional ladders impossible to cut through. Mobile scaffold towers are the best choice now for your scaffolding requirements. And why's that?
1.) Quick and easy to assemble-
This scaffolding tower with stairways is a product that can be assembled and dismantled really fast and easily. It doesn't require any special training and comes with a set of instructions that will make the process even easier.
2.) Highly versatile-
Our mobile towers provide extra working space while being quick and easy to set up. It can be used for construction works, factories and offices. Sometimes you might not be able to conduct a site visit beforehand, and might not be sure of ground conditions. This particular product of DTS will make sure no problem arises even then, we believe in the efficiency and compatibility of our product.
3.) Lightweight and easily transportable-
DST's scaffold towers are extremely lightweight and can be transported from one place to another very easily. This will increase job flexibility and decrease the hassle of transportation.
4.) Made of highly durable, non-corrosive material-
DST's mobile scaffolding towers are made of highly durable, strong, and non-corrosive metals. Our aluminium mobile scaffold towers are carefully maintained and inspected by our qualified team. So you can rely on our products with ease. Our products are made with the aim to provide the most efficient and long-lasting services.
Your safety is our priority-
We make the safety of our employees, clients, their workforce our personal and professional commitment over the last 48 years. DST encourages a workplace where safety comes first and foremost. Our products are specially designed by keeping in mind the safety of workers, and the public at large. We carry out our services with safety-regulated techniques, which along with providing the most efficient solution also provide the safest solutions and provide aluminium scaffold tower rental service all cross the india.
Features of Aluminum Scaffolding with Stairs -
Our company is specialized in designing and developing an excellent and high-performing range of mobile scaffold towers with stairways. We offer these scaffolds in different sizes and heights and can be customized as per the client's requirements.
Scaffolding width: 01.35 metre, length: 1.80 metre; 2.50 m.
Working heights can be extended from 4.50 metres to max. 13.45 metres with standard parts.
Comfortable entry into the scaffolding from outside through the wide entry frame stairways with 100mm deep, non-slip tread surfaces and entry platform.
200 kg/m2 loading capacity i.e. depending on platform length from 486 kg to maximum 810 kg.
The maximum platform heights are limited to 8m outdoors and 12 metres in fully enclosed spaces.
Stabilizing equipment is a standard part of our supply in working heights above 6 metres.
Application of mobile scaffolding towers with stairways -
This aluminium scaffolding product is used for efficient and safe construction requirements of working at heights. The top four reasons why mobile scaffold towers are used in construction processes are-
1.) Safety-
It increases safety and ease of working at heights. Construction sites are dangerous places, there's no denying that, and we provide every possible solution to minimize risk and dangers at the site, stairway scaffolding towers are one of those products.
2.) Mobility-
Easy to put together, easy transportation, and larger space for movement of heavy loads. Scaffolding towers by DST are significantly lighter and can be easily transported with ease and a decent size vehicle.
3.) Lower cost and labour, erection time-
Provides cost-effective and labour-effective advantages. Easy and quick to set up.
4.) Increased productivity
We at Devsons Steels always aim to provide the best products of scaffold service in India along with rental solutions of Scaffolding, Shuttering and accessories. Customer satisfaction is our main goal and we can proudly say that we have achieved this goal every single time. We have hundreds of happy clients across India and we aim to move forward only.
We provide every kind of shuttering and scaffolding material, one might require for any type of construction or carpentry works. Customers can opt for either our rental services or buy the products, according to their needs and requirements. Throughout the 5 decades of service in the construction industry, we have provided excellent rental and purchase services with products that are of the best quality and efficiency.
Get in touch with us.
Specification